Construction Business Web Design Kelowna
Henning Lindbjerg had 40 years of experience building chimneys for other companies when he hired Bryant Web to design a website and take on the SEO and PPC marketing of his own business, Lindbjerg Chimney.
We delivered a complete solution that has helped the Lindbjerg family business succeed. Including:
designing and maintaining a high-converting website
search optimization resulting in sustained, top-position results
creating and managing pay-per-click campaigns
ongoing lead-generation conversion rate optimization
Today Lindbjerg Chimney dominates their industry in Google search rankings, and is in-demand, with clients booked months in advance.
Optimized for lead generation
The Lindbjerg Chimney website is designed to generate leads. To optimize the website I performed a variety of tests on the ad copy and site usability. Using the insight I got from those tests, I made improvements until we saw a steady stream of high-converting leads on the site.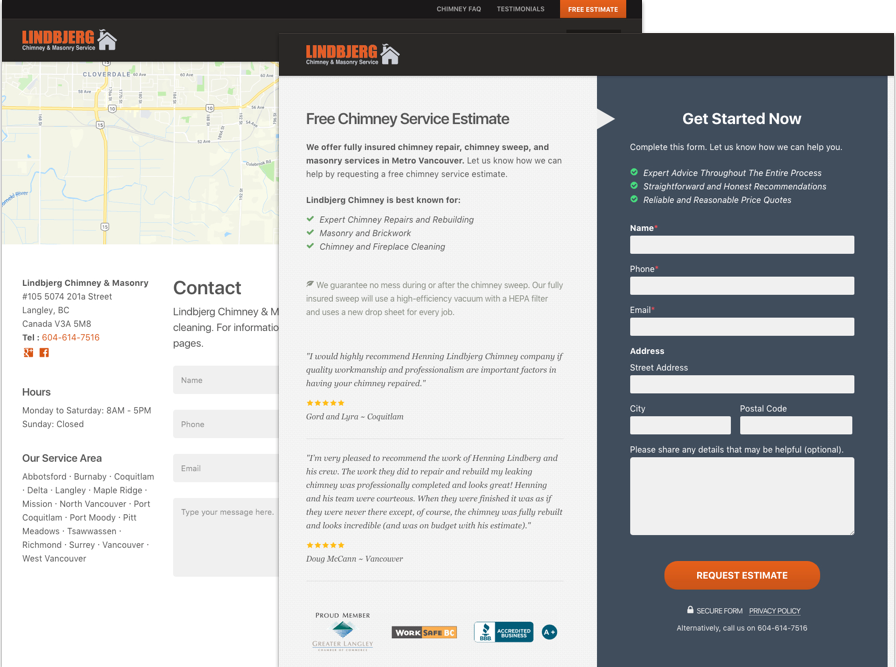 Bryant Web Design has done all design, SEO, and PPC marketing for Lindbjerg Chimney. We've grown the business by creating a solution that dominates search results and generates hundreds of high-converting leads each year. The following numbers represent a snapshot from May 2017 to May 2018. Search data as reported by SEMrush.
Search Visibility Increase
Reduction in Cost Per Lead Acquisition
Average Search Position in Local Results
"The money I've spent on SEO has been worth every penny."
Our website brings in many jobs for our business. I recommend Bryant Web Design to anyone who needs a website. Chris is honest, trustworthy, and concerned with taking care of your needs.
Getting your website up and running and doing its job takes time. The sooner you start, the sooner you will get results. Get in touch and let us know about your project. We've helped dozens of business owners already and we can help you.
Consultations are FREE and require no obligation.