Pharmacy Web Design & SEO Kelowna
Surlang Medicine Centre Pharmacy is known locally for friendly service and expertise in custom medication compounding. We designed a website to reinforce that credibility. Today our
website design
and
search engine optimization
are the heart of their marketing.
Project Summary and Highlights
designed and built an attractive, mobile-responsive website
created 40+ pages of content, including search optimized images and sales copy
achieved top positions in search engine results for key search terms
delivered a website and SEO that brings in new customers
Take a look behind-the-scenes
If you're a pharmacy owner – or own any retail business for that matter – and you're considering getting a website to bring customers into your store, read on. I'll share how I've built and maintain a successful online presence for Surlang Pharmacy.
Starting Point
I began design and SEO work for Surlang Pharmacy in 2012 (and continue it today). At that time, their web presence consisted of a single page in a pharmacy directory. They needed a new, branded website that reinforced their solid local reputation, and represented the full scope of products and services they offer.
Content Planning & Research
The first step was to organize all the pharmacy services and products into logical groupings. These would determine the site's content structure and navigation.
Organizing content is critical to the success of a website. Yet, it's often taken for granted. Many website owners assume that categories and labels that makes sense to them will make sense to visitors. But that's not always true. So getting it right takes some work.
To take the guesswork out of it, I did research to find out exactly what terms and phrases customers use to find pharmacy products online. Then, I combined that data with input from pharmacy staff to help me organize content confident that it would make sense to customers.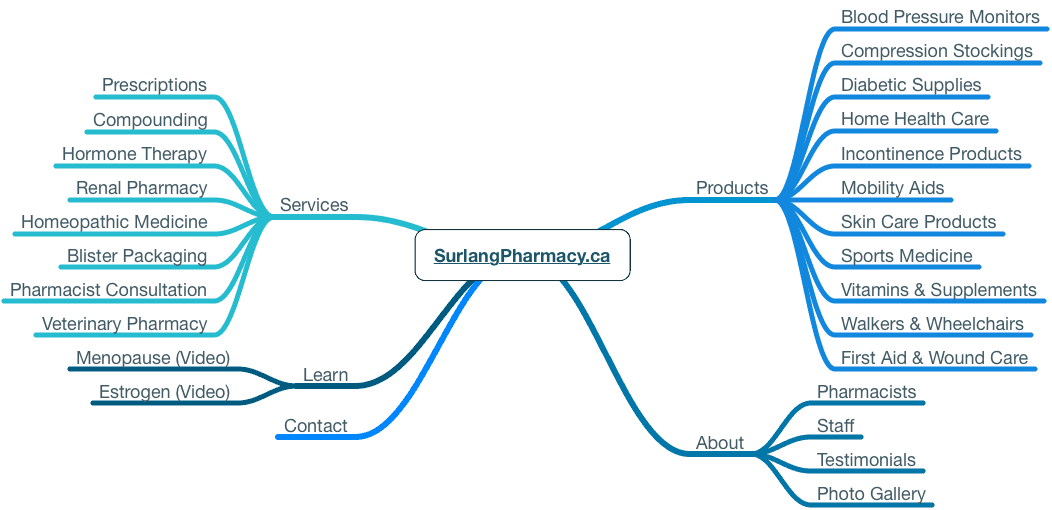 Creating The Content
Content is the most important part of any good website. Once we'd planned what content was needed, it was time to create it.
Genuine photos – not stock images
There's nothing worse than landing on a website of a great local business and seeing stock images instead of the actual business staff. 
Surlang Pharmacy is a real, thriving business in their community. I wanted their site images to convey their approachability. So instead of using generic images, I arranged a photo session, and we used real photos of the staff, and pharmacy.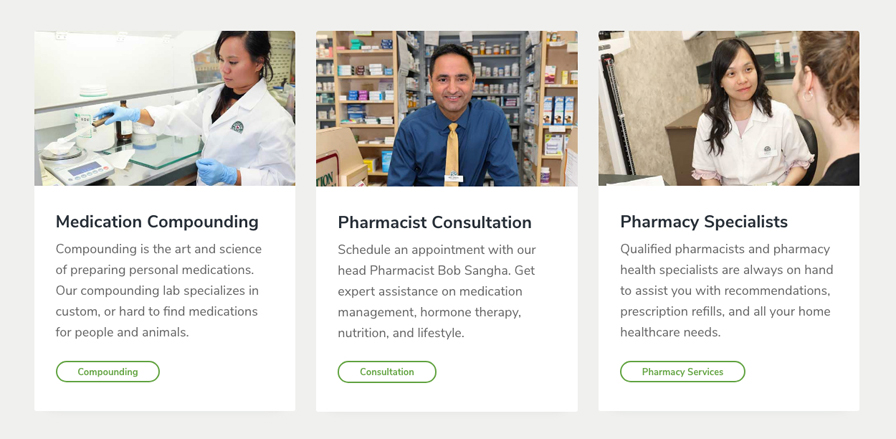 Content-rich pages
I worked with a pharmacy staff on the text for the site. I researched the products and services and wrote my drafts. Then the Surlang team would review, edit if necessary, and approve the final copy.
By having a content-rich site, Surlang Pharmacy gives their visitors value right away. Each page provides a potential entry point for customers, helping the site rank very well in search engines.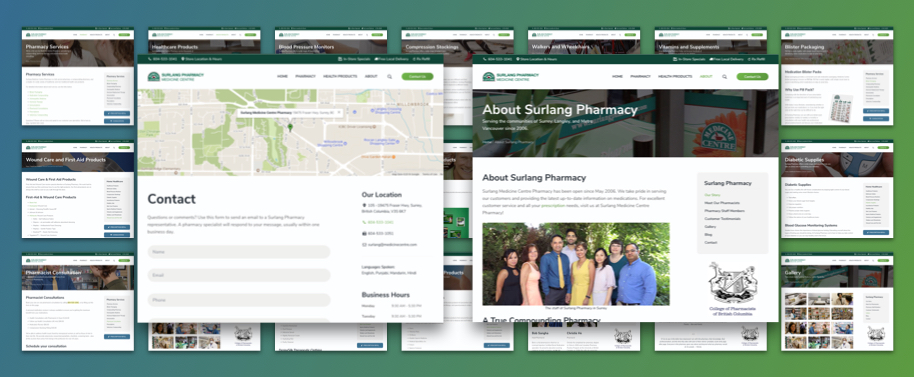 Getting Found in Search Engines
SEO is critical for any site that hopes to compete online. For Surlang Pharmacy, SEO has saved money, and increased their local reach. In fact, they've dropped all other of advertising and rely 100% on the website and search engine traffic to reach their customers.
As of this writing (2018), SurlangPharmacy.ca is the Number One search result for several of their target keywords. They also hold numerous positions in the top five search results for their products and services. New customers discover and shop at Surlang Pharmacy every day as a result of the site design and SEO.
Chris is professional, organized, very thorough. He has done such an amazing job on my website, that I ONLY use my website to advertise and market. I'm getting a lot of traffic and calls to my business based on my website. I would recommend Bryant Web Design to anyone, but not to my competitors.
Getting your website up and running and doing its job takes time. The sooner you start, the sooner you will get results. Get in touch and let us know about your project. We've helped dozens of business owners already and we can help you.
Consultations are FREE and require no obligation.