Search Engine Optimization (SEO) works to help your business gain new customers from search engines. With over 15 years of SEO experience, I can help you compete and win in search results.
Help customers find your website in Google.
Are your customers finding you, or your competitors in search engines?
SEO is the most effective, and cost-effective way to get found by people looking for what you offer. Get in touch now and discover how we can help you outrank competitors, and attract a steady flow of potential customers.
SEO is about making your website visible to people using search engines to find the products and services you offer. Done correctly SEO builds trust and credibility, attracts local customers, and increases traffic, engagement, and conversions.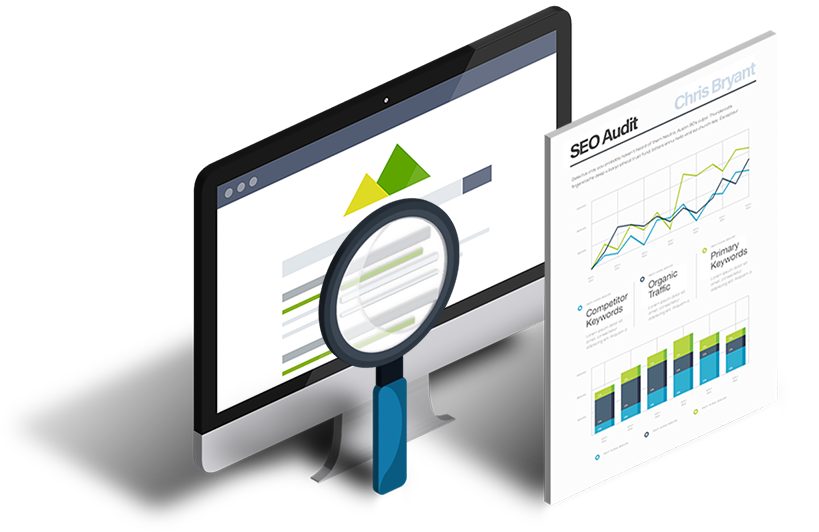 SEO relies on data, and experience. Before doing any SEO, we analyze the suitability of your website. We look at dozens of factors about your website and online presence that influence your site's visibility. This is a necessary review process that gives us a benchmark to measure from, and helps us prioritize tasks for successful SEO.
It's critical to know the words and phrases people use to search for what you offer. This process is not only foundational for effective SEO. But in some cases, our keyword research and competitive analysis has resulted in clients renaming products and services to line up with how customers refer to them.
Gone are the days when SEO efforts focused on search engines first, and people second. Real SEO is about proving that you really are the more relevant result for a particular search query. There's no better way to do that than to ensure your website performance, and content are optimized for people first, search engines second.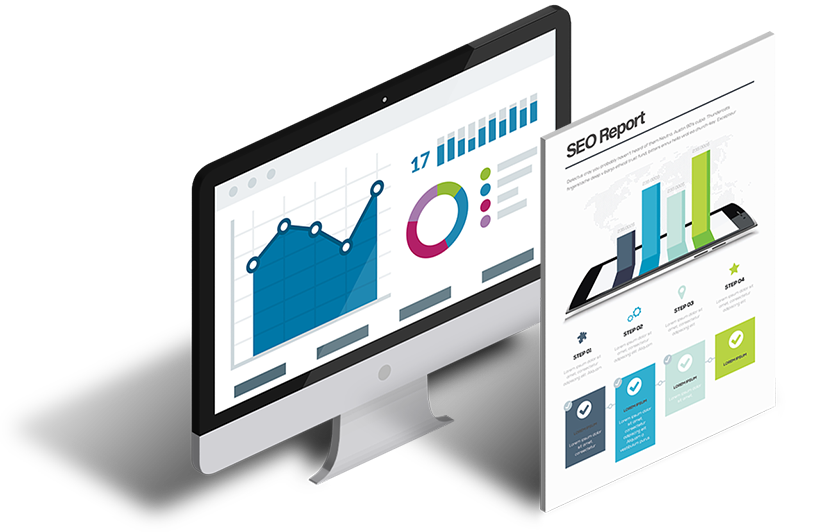 We provide you with SEO reports to demonstrate your website's progress in search, and make sure efforts – and money – are being spent wisely. These aren't complicated reports full of baffling charts and analytics data. These are simple, readable reports that show what's working and what's not so your SEO campaign can constantly improve.
Actual Client Search Results
Here are screenshots of actual Google search results pages for our clients. They demonstrate our ability to earn stable, high ranking positions for target keywords in a range of markets and industries.  
It's important to mention that top search results mean nothing on their own. After all, if customers click through from Google to your website, but don't convert (sign up, call, buy) your great search rankings would have no value. Kelowna SEO is built around your goals – the best measure for success.
SEO for Contractors Business
We created the website, and SEO and PPC (Pay Per Click) campaigns for this company. Rankings fluctuate a little over time. But overall, they have enjoyed a steady stream of high converting clients as a result of Page One rankings for more than 10 targeted keywords, with several keywords dominating the first three positions.
"The money I've spent on SEO has been worth every penny."
"My business went from not being visible - to being number one in Google. Now our website brings in many jobs for our business. I recommend Bryant Website Design. Chris is honest, trustworthy, and concerned with taking care of your needs."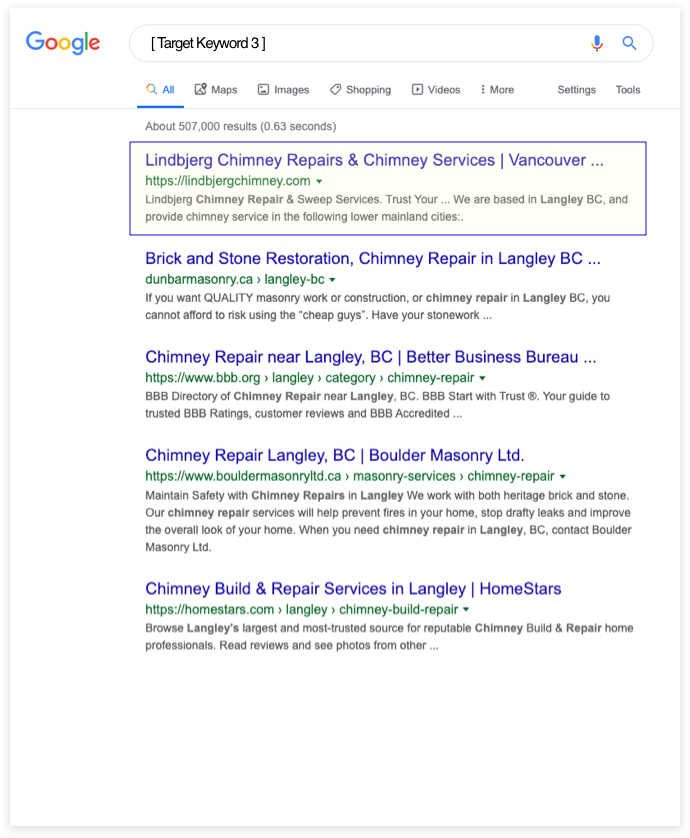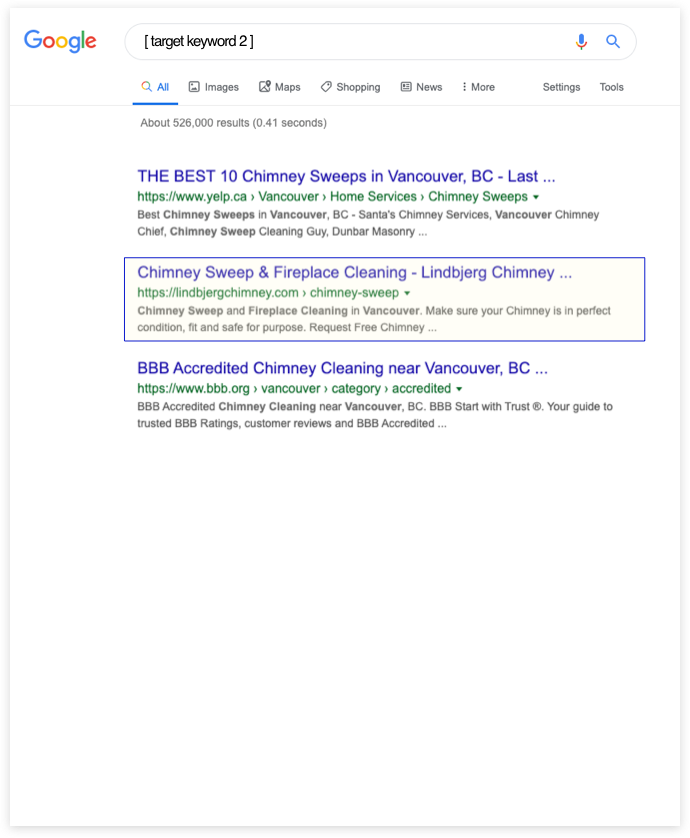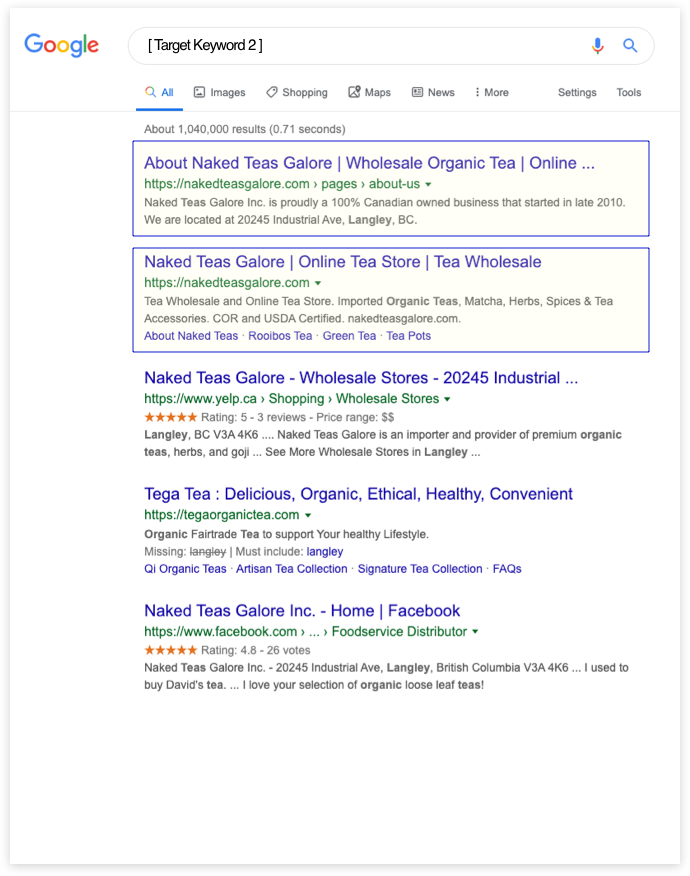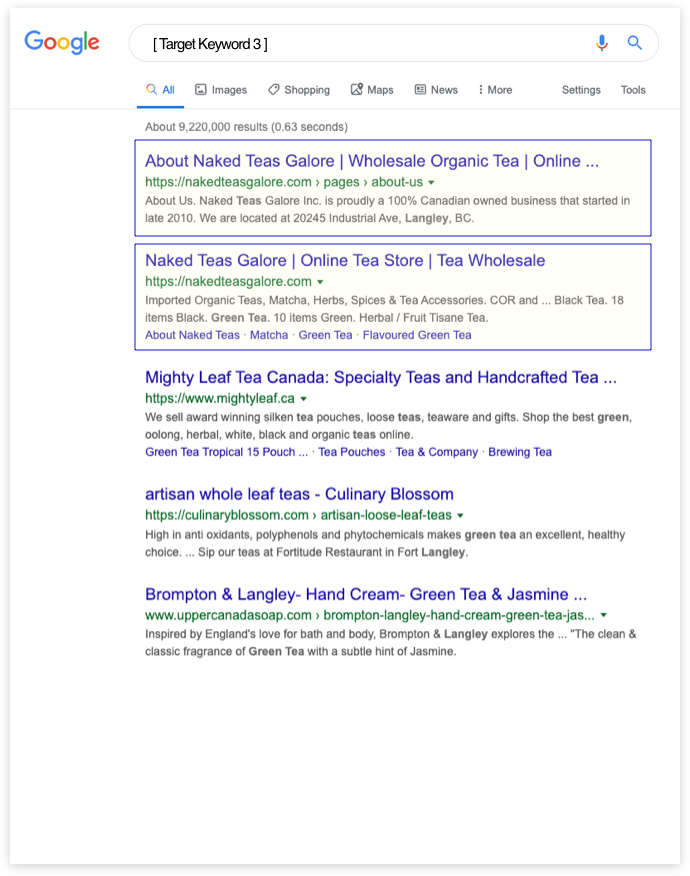 We designed the website and performed SEO for this client's Shopify eCommerce store. In this case, the client is targeting two primary audiences and has top rankings for both. The investment into SEO, and solid business reputation, are earning them new clients through search.
"We are more than pleased with how Chris designed our website. With so many products to display, he helped us way more than expected. Chris had great ideas and got the knowledge he needed to understand our products. Since the website launch, he has been helpful in many ways. We recommended him to other companies who had the same great experience we did!"
Search Engine Optimization for Pharmacy
We created the website, and created a search optimization campaign for the lower mainland business. With several services and products in a very competitive market, we're proud to see this client ranking in top spots for targeted keywords. 
"I would recommend Bryant Web Design to anyone, but not to my competitors."
"Chris is professional, organized, very thorough. He has done such an amazing job on my website, that I ONLY use my website to advertise and market. I'm getting a lot of traffic and calls to my business based on my website. I would recommend Chris Bryant to anyone, but not to my competitors."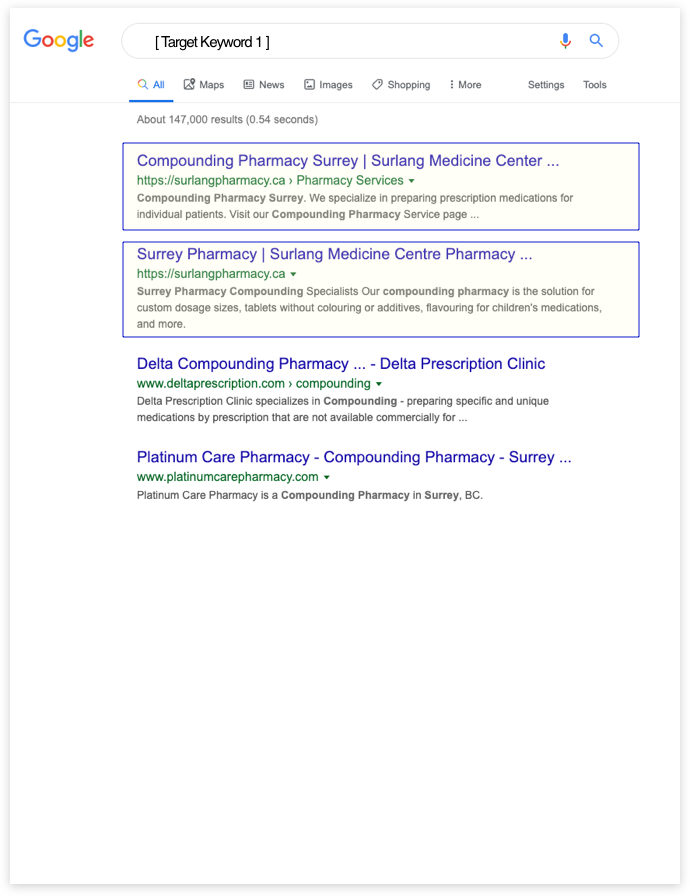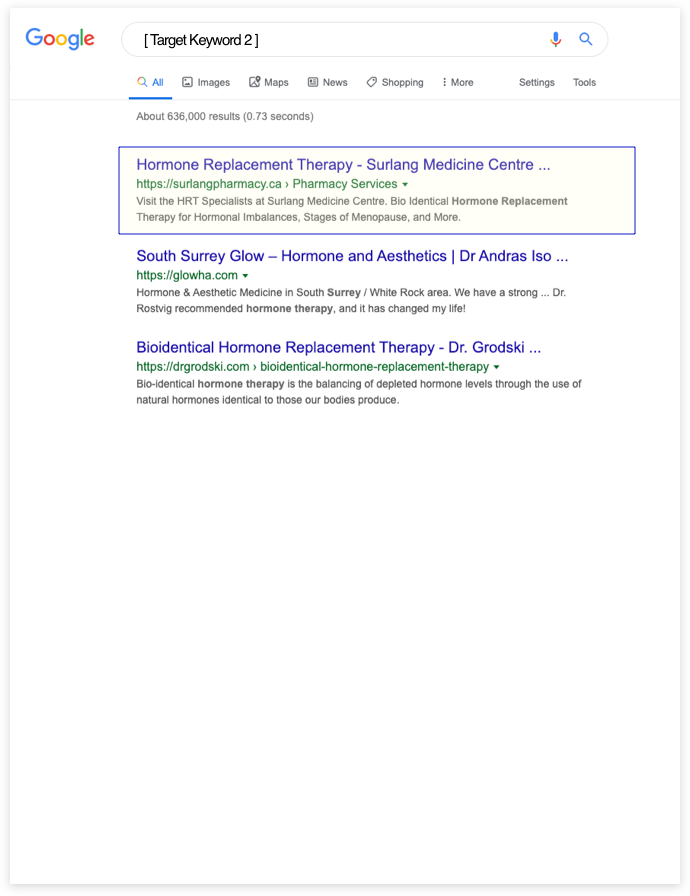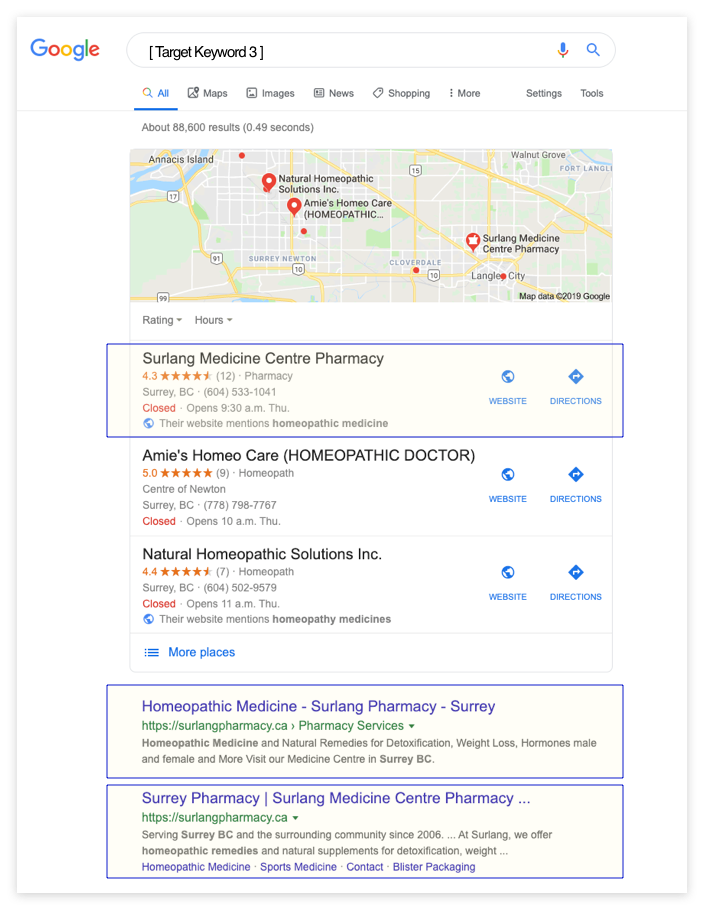 Search Engine Optimization is a set of technical and creative tasks that work to increase your website's visibility on search engine results pages. Optimization is done so your website will appear when users search (type or speak words into a search engine) using keywords and phrases related to your website.
SEO is the best website marketing practice you can invest it because it places your website (your business) in front of potential customers at precisely the moment they're looking for what you offer. This results in brand awareness, increased foot traffic, leads, and sales.
HOW LONG DOES IT TAKE TO GET TOP RANKINGS?
There's no single answer for this because it depends on many factors. Your keywords, your competition level, the health of your website, and more.
We've been able to rank a website for a specific niche keyword in under 24 hours (Google's index works very fast). But in cases where there's keyword competition for a profitable keyword, several months is more realistic. The higher the value of the keyword, and the more competition, the longer it will take. We've develop SEO strategies aimed at meaningful traffic (ie: traffic that converts), using proven practices that doesn't jeopardize your reputation. SEO is a long term strategy – not a quick fix.
WHAT IS THE MOST POPULAR SEARCH ENGINE?
Google easily dominates the search engine world. They process 73% of all searches. That's over 40,000 searches per second. Or 3.5 billion searches per day. BING comes in second place with 7.9% of searches. Yahoo! is third with 3.9%. Followed by Ask, AOL, Baidu (China), Wolframalpha, Duck Duck Go, and Yandex (Russia).
It's worth mentioning that YouTube, although not designed primarily as a search engine, is the second most used search engine. It overtakes all the other official search engines other than Google.
When you search in Google, it returns paid ads, and non-paid search results. Organic SEO refers to non-paid search results only. Paid Google ads can be very useful and affordable for a website that is just starting. But the value of organic traffic is far greater.
CAN SEO HELP MY LOCAL BUSINESS?
Yes. In fact optimizing your website for local search is a unique discipline within SEO known as Local SEO. 
Search engines understand location. If someone in Kelowna and searches for 'SEO Company near me', they're going to get results featuring businesses offering Kelowna SEO services. That's because search engines use your geolocation data to customize your search results.
But with local business, there's local competition. To rank highly for very competitive keywords ('Kelowna SEO', for example, is extremely competitive) means implementing a long-term, local SEO strategy. No matter what business or industry you're in, the sooner you get started optimizing for local SEO, the sooner you'll start reaping the rewards.
WHY DOES MY WEBSITE NEED TO BE OPTIMIZED?
Although people can get to websites directly, or from other sites, search engines are the primary way people find information online.
If you launch a website today and do no SEO – eventually as people link to it – Google will most likely discover your website. The challenge, however, is that there are millions of web pages competing for valuable keywords and only one of them can have the top spot in search results. For your website to compete and overtake other websites requires proactive effort on your part in the form of SEO.